Proud to support East Bank Summer Programme 2022
The Foundation for Future London is pleased to share the news that thanks to our funding, along with partner City of London, East Bank is launching its first creative programme, a series of free cultural events running 23 July to 25 September 2022 in Queen Elizabeth Olympic Park and neighbouring venues across the four Olympic boroughs – Newham, Hackney, Tower Hamlets and Waltham Forest.
Bringing together new art commissions, live performances, talks and tours, and a series of community workshops, the programme is supported by the Mayor of London, Foundation for Future London, the City of London, London Legacy Development Corporation, and the councils of Newham, Hackney, Tower Hamlets and Waltham Forest. Marking 10 years since the London 2012 Olympic and Paralympic Games, the programme will celebrate the continued legacy of the Games in east London and provide a taste of what's to come at East Bank.
The programme kicks off with The Great Get Together on Saturday 23 July 2022. East Bank partners will host a series of live events, activities, performances and workshops as part of The Great Get Together's biggest ever annual programme of music, dance, arts, sport and food across Queen Elizabeth Olympic Park. LCF will host family-friendly creative workshops exploring mixed media and fashion zine-making, as well as showcasing work by BA (Hons) Costume Design for Performance student, Mathilde Louise Lina Weihrich with a performer roaming the grounds promenade-style throughout the day.
Also launching on 27 August 2022, East Bank is collaborating with London-based editorial and curatorial platform gal-dem on a major new series of public art interventions. gal-dem works with young people of colour from marginalised genders and has commissioned four artists to explore the ways in which our daily lives have been changed by the pandemic. Erin Aniker, Hannah Ceren, Kirsty Kerr and Cherelle Sappleton will contribute to a series of public realm artworks jointly named 'Getting Back to Normal – Utopia/Dystopia' and curated by Leyla Reynolds, founding member of gal-dem. The works will appear in and around Queen Elizabeth Olympic Park as digital screens, large-scale easels, printed hoardings, installations and more. East Bank has also co-commissioned a new creative project with each of the Olympic Boroughs, running throughout August and September.
A finale performance, 'Dystopia to Utopia: reimagining our future', will be choreographed by Dannielle 'Rhimes' Lecointe and co-produced by East Bank and East London Dance. Tony Nwachukwu will be musical director. At sunset on 22 September 2022, the East Bank building site will come to life with projections and genre-bending performance imagining our future as we rebuild as a community following the pandemic. The performance will conclude the creative programme, as well as celebrate the upcoming opening of the first building on the UCL East campus, a major landmark for the East Bank partnership as it begins to go live.
In addition to all of these free cultural events, East Bank has also launched a call-out for East Bank SEEDED, a series of five-month long residences for east London-based creatives, communities or collectives. V&A East, UAL's London College of Fashion and UCL East will each run a residency, Autumn 2022 to Spring 2023.
About East Bank
East Bank is a unique collaboration between world-leading universities, and arts and culture institutions on Queen Elizabeth Olympic Park. A new hub for innovation, creativity and learning, East Bank opens up opportunities for everyone who visits, lives and works in east London. East Bank's first collaborative creative programme anticipates the forthcoming site openings of each of the East Bank partners: UCL (University College London), UAL's London College of Fashion, BBC, Sadler's Wells, and V&A East Storehouse (2024) and V&A East Museum (2025).
The programme's grand finale on 22 September 2022 will help mark the opening of the first building on UCL's new campus on the Park.
Established to harness the Olympic legacy and create a new cultural destination in east London, East Bank is deeply rooted in local communities and local landscapes. This diverse programme of events will showcase East Bank's particular ability to combine creative practice, world-class research and community collaboration. Working with young people from across the creative industries and beyond, the programme will demonstrate East Bank's commitment to nurturing future talent and supporting young creatives to explore ideas and take risks. Taking advantage of a period of transition on Queen Elizabeth Olympic Park, East Bank will create a blueprint for new ways of nurturing local talent, and promoting socially engaged and ambitious creative practice.
East Bank Summer Programme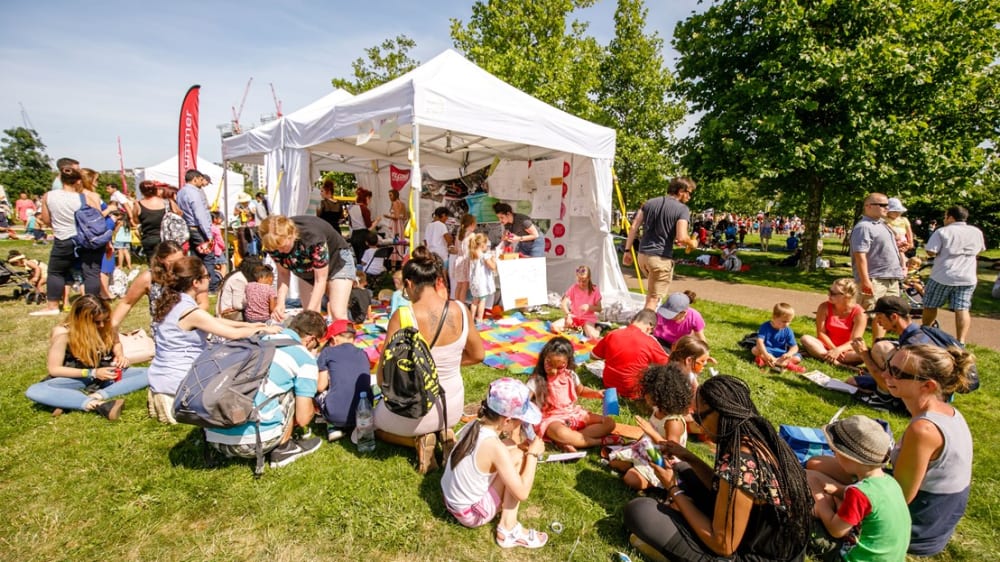 The Great Get Together
23 July
Our free to enter, flagship community event is inspired by and showcases the best of east London, bringing together music, dance, arts, sports and food for all to enjoy.
Prepare to be wowed by our mainstage line-up, expect breakthrough acts and cutting-edge music brought to you by BBC Music Introducing. Our favourites London School of Samba Parade will bring a fiesta of vibrant colour and rhythmic dance, and Breakin' Convention are back with their rap lyrics and hip-hop moves – we challenge you not to dance along. Awe-inspiring circus acts, immersive street theatre and an acoustic area jam-packed with up-and-coming local singers, musicians plus poets are sure to keep you entertained throughout the day.
Visit The Great Get Together website for more information.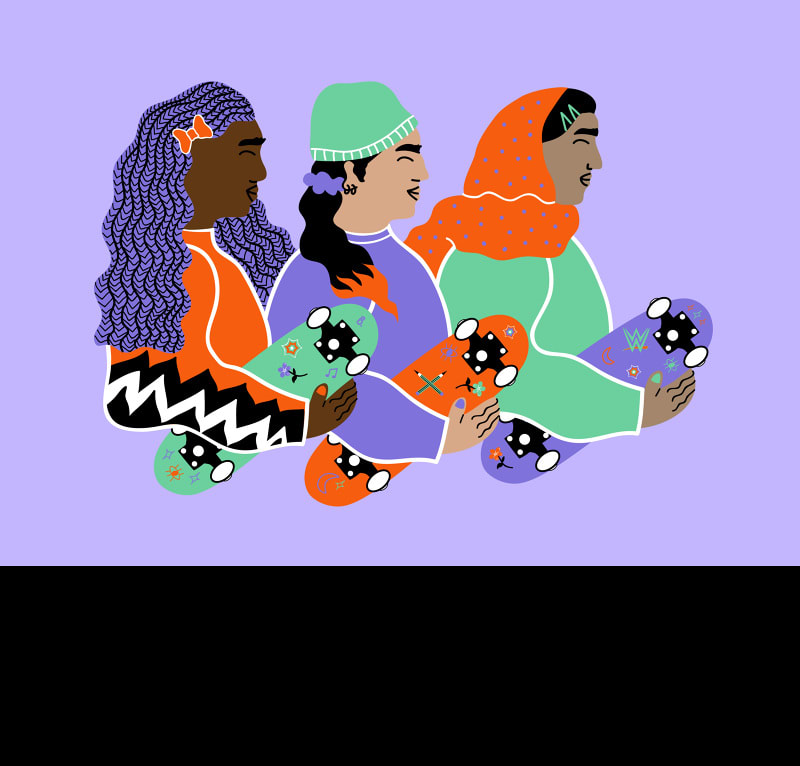 Dystopia/Utopia
8 August – 30 October
Summer 2022 marks the beginning of the East Bank partners arriving in Stratford, and the 10-year anniversary of the London Olympic Games. In this East Bank commission by ground-breaking media publication gal-dem, independent curator Leyla Reynolds programmes a series of activations by artists of colour from marginalised genders, exploring the way communities rebuild after a pandemic for a more equitable future.
Exhibiting artists include illustrator Erin Aniker, multimedia artist Cherelle Sappleton and visual artist Kirsty Kerr with more to be announced.
Visit What's on for more information.
Dystopia to Utopia: reimagining our future
22 September
At sunset watch the East Bank building site come to life with projection and genre-bending performance as we celebrate new beginnings and mark the arrivals of UCL East, UAL: London College of Fashion, Sadlers Wells, BBC and V&A East to their new homes in Stratford.
Dystopia to Utopia: reimagining our future is choreographed by Dannielle 'Rhimes' Lecointe, with musical direction by Tony Nwachukwu, and co-produced by East Bank, East London Dance. The performance is co-designed with ELYDC (East London Dance's Youth Dance Company) and UD's Flames Collective at the Talent House, a brand new state-of-the-art creative hub in Stratford that supports young diverse talent in east London to become the next generation of music and dance professionals.
Visit What's on for more information.
SEEDED
Are you an east London-based creative practitioner, community organiser, artist, or collective? The East Bank partner– V&A East, LCF, BBC, Sadlers Wells, and UCL, are launching a 5-month residency program that runs from Autumn 2022 to Spring 2023.
V&A East, London College of Fashion, UAL and UCL East, are looking for applications creative practitioners, small-scale creative organisations and collectives from across east London who want to investigate themes of migration and social practice. This opportunity is for creatives who want to innovate, experiment and develop new practice while pushing conventional boundaries of form and structure.
This year, we are looking for three residents to partner with:
London College of Fashion, UAL
V&A East
UCL East
They also want to hear ideas from creatives beyond these themes: What are the vital issues in today's world, and within your community, that you want to explore with these institutions? 
As a resident with East Bank, you can expect:
To be hosted by your institution: you will have up to 80 hours of contact time across the five-month residency, which could include desk space, time in a studio, meeting rooms, access to archives and collections, and invitations to events;
A facilitated creative journey: you will have a point of contact at your paired institution who will facilitate your residency, and you'll also be connected with other residents to share experiences, tools and knowledge, and come together in community;
A process-centred approach: residencies are focused on process, research, learning, development, collaboration and relationship building, rather than a final product or pre-defined outcome;
To receive funding of up to £5,000: to support your time, your collaborators time, and materials or resources that you might need for your residency.
Application process and criteria